The Wilts & Berks Canal
Crossing Wiltshire, Swindon and Oxfordshire The Wilts & Berks Canal was opened in 1810 ( with a further extension in 1819) and operated for nearly a century until abandoned by Act of Parliament in 1914.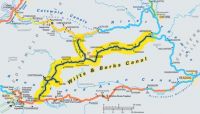 Since the turn of the 21st century members of the  Canal Partnership have been planning and implementing a restoration of this important waterway link and it is thought to be the longest restoration project in Britain. When completed the Wilts & Berks Canal will add over 60 miles to the national waterways network strategically linking the River Thames to the Kennet & Avon Canal.
Much of the progress of restoration has been due to the dedication and extraordinary efforts of volunteers of the Wilts & Berks Canal Trust , and the enabling works of the  Canal Partnership. Several miles of the waterway have been returned to water with numerous structures, including bridges, locks and lengths of towpath, restored or in the process of restoration. The Partnership is aiming to complete the restoration of this important recreational and wildlife resource by 2025.
The main line of the canal runs for 52 miles between the Kennet and Avon Canal at Semington and Abingdon on the River Thames, with the 8 mile North Wilts branch connecting to the Thames and Severn Canal at Cricklade, and a further 4 branches at Chippenham, Calne, Longcot, and Wantage.
The Partnership
The Canal Partnership was formed in 2001 to deliver this exciting project for the recreational benefit of local communities and to create a green/blue infrastructure habitat for wildlife. The Wilts & Berks Canal name reflects the original counties where it was constructed. In 2012 the Partnership has a title that  reflects the three administrative County/Unitary Local Authority areas where the canal is being restored.
Details of the 25 partner organisations can be found the Partners page of this web site where by clicking the links you can find out more about their part in the restoration of the Wilts & Berks Canal.
Your views matter - the restoration of the waterway is as an asset to be enjoyed by all the local communities along the route of the canal.
Details about the completed projects and plans for future restoration are shown on our Projects page.
Please contact us if you would like to comment or would like further information
Email : This email address is being protected from spambots. You need JavaScript enabled to view it.
Find the Friends & Volunteers of the Wilts & Berks Canal on Facebook